A bare land lies at the foot of an unnamed hill—the locals are unconcerned with such trivial matters. It is only a few hectares, but it is enough for Mr Mboni to be considered wealthy. It's March, and he's preparing the land for the heavy rains that are expected between April and June. "The rains have been unpredictable in recent years," he laments, "and the seeds no longer thrive in these soils." Mbitu, a small-scale farmer, shows me around her small plot of land in Nakuru, Kenya's highlands. She has been growing maize for nearly two decades, ever since she first purchased land here. I am not surprised since it's the norm in most Kenyan households.
Maize is a staple food in most, if not all, Kenyan communities. It's July, and most of the maize is a beautiful green, with most of it flowering; she's optimistic, but she says the rains have been misleading for the last decade. "In the early 2000s, we started planting maize in late February or early March when the long rains began, but this year, the rains delayed, and we planted in May." She starts in conversation. "And there are inconsistencies in the rainfall throughout the year, affecting the overall growth of the maize and, as a result, the yield."
Several East African countries are currently suffering from severe drought and famine. Recent droughts and hunger call for immediate action to address climate change and food security risks. While significant efforts have been made to mitigate the negative effects of climate change on food security, these techniques have limitations in terms of providing a long-term solution, especially for smallholder farmers who account for a large portion of East Africa's arable land. Farmers continue to plant the same crops they did in the same area, despite changes in climate and soil composition.
Food security exists when all people have physical and economic access to sufficient, safe, and nutritious food that meets their dietary needs and food preferences for an active and healthy lifestyle at all times( World Food Summit, 1996). Landscapes are primarily responsible for food security because they have a significant impact on food production. Understanding past land use, specifically crop farming, is critical in modelling future land use while accounting for future climate scenarios. Earth observation methods are becoming more popular for mapping changes in land use and land cover. Land use is dynamic as a result of the effects of social and environmental factors. This characteristic makes mapping and monitoring challenging, which earth observation attempts to address.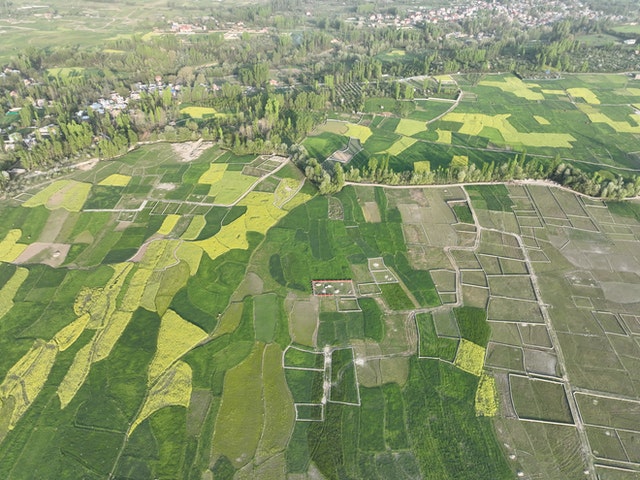 Currently, extensive research has been undertaken in areas such as crop cover mapping, crop yield prediction, and climatic modelling. Existing crop-specific maps are large-scale and do not account for small-scale farmers; they also lack a consultative approach to the suitability of alternative crops in future climate scenarios. By identifying different crops grown throughout the year, factors that drive crop farming in terms of regional climate, soil composition, and economic factors, and combining these with data-driven models such as land use, soil, and earth observation and machine-learning methods, it will provide an understanding of the change in crop farming (crop species, and yield) in relation to climate change, and advise on the suitability of the crops in the area.
While the majority of previous efforts have focused on data and research for sustainable agricultural practices, it is equally important to develop systems that are effective in the distribution of resources to early action focused on farmers and affected populations. Identifying vulnerable communities and underlying climate risks, as well as investing resources in early action and warning systems, is an approach that has the potential to address food insecurity. This should entail collaborative efforts from the government, private sector, and farmers. Partnerships can finance projects that reach a larger population and have a significant impact on sustainable land techniques and, as a result, food security.
Tools for geospatial analysis are becoming increasingly important in determining the relationship between food security, agricultural practices, and climate change. GIS is important in understanding and analysing factors that play a vital role in food security, in addition to being used in the analysis of satellite imagery, particularly to monitor the climate, soils, and land use. Mapping key factors such as physical, environmental, cultural, and socioeconomic factors are critical in addressing food insecurity. Understanding the relationship between poverty and food security, which affects the majority of developing and underdeveloped countries, is pivotal. Poverty has an impact on the size of agricultural farms as well as the adoption of sustainable agricultural practices that help to preserve both the land and the environment.
Lastly, while many African countries are culturally inclined to grow traditional foods, it is becoming necessary to diversify foods, which, in addition to ensuring a consistent supply of foods in different seasons, also addresses a population's nutritional needs.