Are you looking for GIS solutions to help with your project? There are a variety of GIS software and tools available to choose from, including industry leaders like ArcGIS and QGIS. We have software around the three paradigms; Desktop GIS software, Mobile GIS software and Web/Online GIS software.
In this article, we will introduce you to some of the top GIS software options available and provide an overview of their capabilities. Whether you're a beginner or an experienced GIS user, there's a software option for you.
1. ArcGIS by Esri
ArcGIS by Esri is a comprehensive desktop GIS software solution with plenty of features and customization options. It's especially popular among mapping professionals due to its wide range of capabilities, such as data editing and analysis, publishing interactive applications and more. Additionally, it integrates with business intelligence solutions like Tableau for an even more comprehensive GIS workflow.
ArcGIS has been around for a long time and has really transformed into an analytical powerhouse. ArcGIS allows organizations to create powerful maps and visualizations quickly and easily. It's designed to handle large datasets without breaking a sweat, making it ideal for complex GIS projects. With its ability to combine data from numerous sources and types, ArcGIS enables users to make better-informed decisions using insights gathered through analysis. Moreover, its intuitive drag-and-drop interface makes it very user-friendly even for beginners.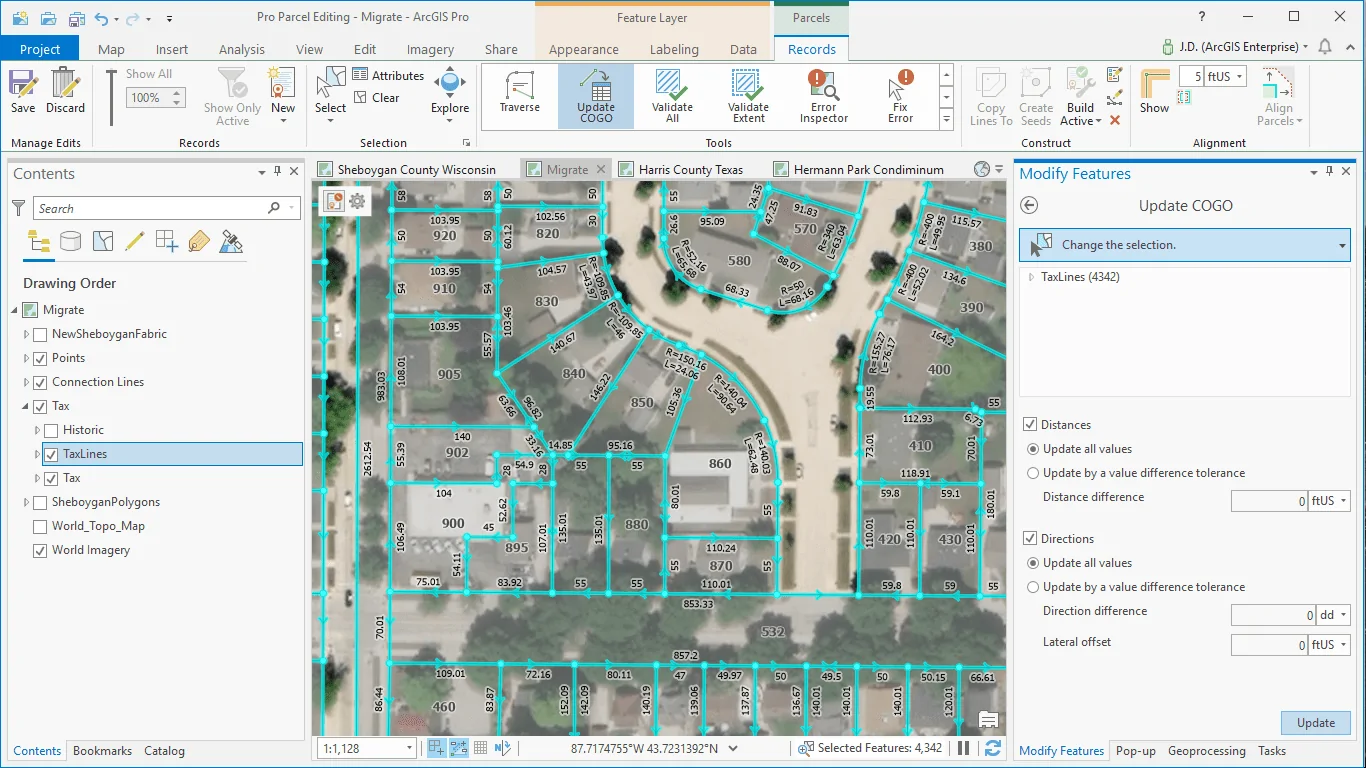 2. MapInfo Pro by Precisely
MapInfo Pro is another oft-used GIS software solution. Professional users like its range of GIS capabilities and its ease of use. Even those with very little knowledge of GIS can use the software to create digital maps, analyze spatial data and generate reports. Additionally, it includes plenty of advanced features that GIS professionals need, such as heat mapping and remote sensing analysis tools. This makes it an ideal choice for various organizations in the public and private sectors.
With MapInfo Pro's range of features, users can easily import, edit and analyze spatial data. They can also create digital maps to visualize data as an expression of distribution and relationships. Additionally, the software enables users to support their decisions with reliable analytics. This makes it easier for organizations to plan strategies that are more accurate and efficient. Its performance optimization tools help users to quickly generate insights from their spatial data without worrying about lags or crashes during the process
3. QGIS by Open Source Geospatial Foundation
QGIS is a free and open-source GIS software. It is popular with academic and research projects, as well as NGOs and smaller businesses. The most recent version of QGIS includes geoprocessing tools; for vector, raster processing and analysis, options for publishing and downloading web layers and tools for transforming data into 3D maps. Additionally, active development in the software means that users have access to the latest advancements in GIS technology.
QGIS provides a wide range of plugins available which offer users many additional features and options when creating, analysing and using GIS data. Using these plugins it is possible to extend the functionality of the software and easily create detailed maps and visualizations. Additionally, QGIS can be used in combination with other GIS programs such as PostgreSQL/PostGIS or MapServer for increased functionality. With its open-source license, it is easy to; collaborate with groups of users from different places around the globe to share data and develop new tools for better GIS mapping.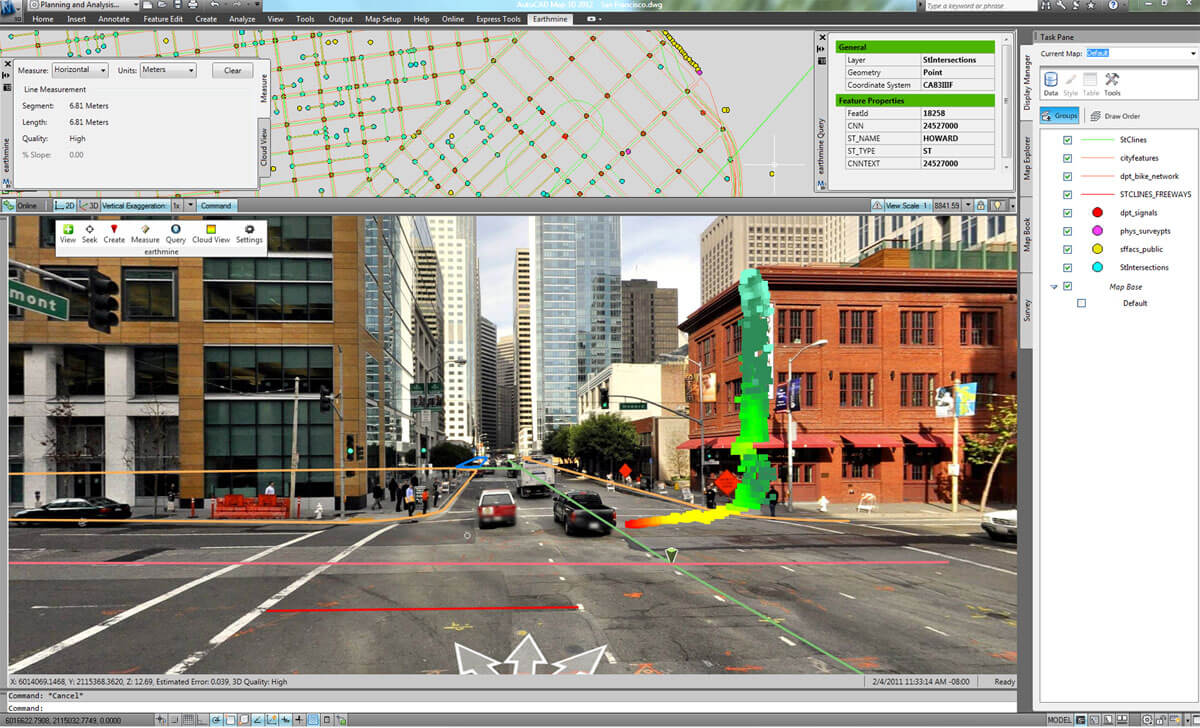 4. Autodesk AutoCAD Map 3D
Autodesk AutoCAD Map 3D is a popular GIS software solution developed by Autodesk. This resource focuses on the integration of CAD, GIS and BIM workflows, providing users with advanced data management and analysis options. In addition to standard geoprocessing capabilities, AutoCAD Map 3D provides powerful editing tools, dynamic labelling and rich cartographic production. The intuitive user interface allows users to familiarize themselves with the functions quickly, allowing for an efficient and effective workflow in projects.
AutoCAD Map 3D also offers tools for creating data-driven maps that serve as an organizational hub for all project information. All of the data is stored in an industry-standard database, providing users with maximum flexibility while allowing centralized access and management of data. With its comprehensive feature set and simple interface, AutoCAD Map 3D is an attractive choice for both professionals and amateurs looking to leverage GIS capabilities within their projects.
5. Autodesk MapGuide Enterprise
Autodesk MapGuide Enterprise is a project-centred GIS application by Autodesk. Developed to help build downsized configurations of large-scale projects, this software provides users with the tools they need to manipulate map layers, explore mapped data and analyze geospatial trends. It also offers powerful editing functions and dynamic labelling capabilities, allowing users to get the most out of their GIS projects. Its flexibility makes it an ideal solution for anyone looking for powerful yet easy-to-use GIS software.
Autodesk MapGuide Enterprise makes editing map layers easy; users have access to a variety of features such as measurements and node manipulation functions. In addition, they can also take advantage of advanced editing functions including adding curves and curve segments and merging/splitting entities. By taking advantage of these editing functions users can customize their maps in a matter of minutes. On the other hand, its dynamic labelling capabilities allow them to quickly modify labels on the fly with great detail. The software even comes with comprehensive reporting options that visualize mapped data in great detail.
Which software have you used from this list and what are your views about it?